Meet
The Team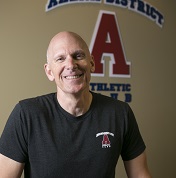 Bill Brown
General Manager
View More
Bill Brown
email Bill
614-461-7785
Bill is the general manager at the Arena District Athletic Club. He is a certified personal trainer through the American Council on Exercise, and has more than 20 years of experience in hospitality management with the Crowne Plaza Hotel and Deer Creek Resort and Conference Center.
Bill is an avid exercise enthusiast and has been involved in physical fitness all his life. He has competed in football, basketball, softball and rugby, and currently enjoys resistance and circuit training, Cross Fit, biking, playing golf and kickball. He also completed the Columbus half-marathon.
Steve Levert
Assistant Manger
View More
Steve Levert
email Steve
614-461-7785
Steve serves as assistant manager to the Arena District Athletic Club. He has over 15 years of experience in the hospitality industry.
In his past roles, Steve has served as a manager with Columbus Hospitality and has been responsible for managing guest service and banquet operations. He has a passion for body building, movies and photography. Steve is married with two children.
Brittany Lewis
Member Program Coordinator, Personal Trainer
View More
Brittany Lewis
email Brittany
I attended CSCC where I received an associate's degree in Sports and Exercise Science. I began working at the club in 2013 as a part time employee. I became certified as a trainer through the American College of Sports Medicine. I recently became certified in FMS (functional movement screenings) as well. I get to help people and be a part of positive change in their lives
Terry Adams
Member Services Supervisor / Personal Trainer / Group Fitness Instructor
View More
Terry Adams
email Terry
Terry is a Certified Personal Fitness and Kickboxing trainer through the Aerobics and Fitness Association of America and the International Sports Conditioning Association. He is also a certified Johnny G spinning instructor. As a certified Johnny G instructor for over 6 years and a certified personal trainer for 2 years, Terry has continued his love of fitness since graduating from Columbus State. His training emphasis includes core and muscular strength and endurance, improved balance and running.
Jimmy Peters
Personal Trainer
View More
Jimmy Peters
email Jimmy
330-204-4878
Jimmy has been a personal trainer since 2005 and has worked with various populations from the average business individual, to children, and even professional athletes. In 2011 he earned his Masters Degree in Exercise Science and Health Promotion with a focus on Performance Enhancement and Injury Prevention from The California University of Pennsylvania. In 2005 he graduated from Miami University with a Bachelors Degree in Health & Sports Studies with a focus on Exercise Science and Nutrition. He is a Certified Personal Trainer and Certified Strength & Conditioning Specialist through the National Strength & Conditioning Association as well as a Performance Enhancement Specialist through the National Academy of Sports Medicine.
Jimmy believes one's fitness goals are achieved through hard work and dedication to fitness and nutrition. Results are achieved through an intense and consistent workout routine. Jimmy has worked with clients ranging from weight loss, improved fitness, and sports performance enhancement. In his free time Jimmy enjoys playing basketball, snow and water skiing, working out, and participating in 5k's.
Krista Johnson
View More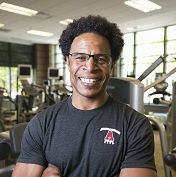 Charles Gibson
Personal Trainer / Group Fitness Instructor
View More
Charles Gibson
email Charles
I have been a fitness professional for over sixteen years. Wow that still amazes me! From time to time I am asked what do you do? My answer to that is. I inspire hope and change in others through fitness! You could say that is my mission, but it didn't start that way.
I have always led a physically active lifestyle. I started out informally helping my friends and making suggestions to how they could get the most out of their workout and making sure they had proper form when working out. This led me to teaching Body Pump at Cal Fit, then kickboxing and spinning. Fast forward to two years later, and I am in Ft.Lauderdale completing my personal training certification with ISCA.
My clients have ranged from athletic teams, firefighters, corp executives, retiree's and stay at home moms. I am in my fifth season as a track and field coach at New Albany High School. About seven years ago I was introduced to yoga which let me to Thai Yoga Massage. I have been studying and practicing Thai Yoga Massage for four plus years now. I went to Montreal to Lotus Palm to complete my essential certification after starting my studies here in Columbus. I have either led or assisted in 10 Thai Yoga Massage partner workshop in the past year. The workshops allow me to share this form of bodywork with the masses. My next steps are to complete the 3rd level of TYM certification this Summer in New York
Aron Layman
Personal Trainer
View More
Aron Layman
email Aron
Aron is a Certified Personal Trainer through the National Strength and Conditioning Association, and the American Council on Exercise. He is also CrossFit Certified. He has degrees in both Sports and Fitness Management and Human Development & Family Studies.
Aron has had the opportunity to work with a wide range of individuals in various capacities over the last 5 years. He specializes in constantly varied functional movements performed at higher intensities. His knowledge and expertise will help you achieve your fitness goals and provide you with an incredible sense of accomplishment.
Aron has a passion for educating people on how to make fitness a permanent fixture into their everyday lifestyle. With his attention to detail and willingness to stay abreast of the latest fitness research, he is able to develop programs that will effectively suit his clients' health needs.
Velma Garnes
Personal Trainer / Group Fitness Instructor
View More
Velma Garnes
email velma
614-563-2465
Velma Garnes has been a fitness enthusiast most of her life. In her school days, she ran track, flirted briefly with gymnastics, and settled on cheerleading and track in High School. This enthusiasm for fitness remains today, as evidenced by her certifications as a personal trainer, SPINNING instructor, a National Academy of Sports Medicine Performance Enhancement Specialist (NASM-PES), and Ashtanga (Power) Yoga instructor.
In addition to the aforementioned certifications, Velma has earned three degrees that have contributed greatly to her success as an excellent fitness trainer: A Masters Degree in Exercise Physiology, from California University of Pennsylvania, a Bachelor's Degree in Health Administration from Ohio Dominican University and an Associate's Degree in Sport and Exercise Studies from Columbus State Community College. This combined with clinical human performance laboratory work and work experiences she gained while in school, have all given Velma the opportunity to pursue one of her interests – sharing her love and value of fitness with others.
Velma has been inducted into the Sports and Exercise Studies Hall of Fame from Columbus State Community College for her contributions to the program. She has served there as an adjunct faculty member for over 6 years where she taught a myriad of classes including: Total Body Fitness, Components of Aerobic Fitness Training and Intro to Yoga, of which she wrote the coursework for.
Joe Green
Personal Trainer / Group Fitness Instructor
View More
Joe Green
email Joe
Joe has been a lifelong nutrition and fitness enthusiast who has devoted his professional and personal life seeking out how the body performs in order to achieve maximal strength, energy, and well-being.
Joe started out his career at The Ohio State University where he studied Human Nutrition. At this time, he also began competing for the Buckeyes in the top boat on the Men's Rowing Team. This offered him an opportunity to not only compete nationally against elite, Division-1 schools, but also push him to build his physical and mental toughness beyond what he thought possible.
While at OSU, Joe became an ACE certified personal trainer and began instructing others on how to build solid, foundational strength in an effort to increase overall health and wellness. Joe is an incessant learner and always a student. He prides himself in keeping up with current research to instruct his clients on the practical implications of the science-based protocols he prescribes.
It is his true passion and keen interest to wholly improve the lives of those he instructs by building strength, energy, and confidence.
Recent posts by
Joe
No Recent Posts
Maggie Fekete
Registered Dietitian, Nutritionist, Certified Health Coach, Personal Chef, & Registered Yoga Teacher, Trainer
View More
Maggie Fekete
email Maggie
614.719.9616
I assist my clients in discovering their best life through Health & Nutrition Guidance, Personal Chef Service, and Private Yoga.
My interest for nutrition began with my first nutrition course at the University of Cincinnati in the winter of 2005. I began to improve my health, and the health of my friends and family, through my new found passion for nutrition.
I completed my Bachelor of Science in Dietetics at the University of Cincinnati in the spring of 2008. That summer, I returned to Columbus, Ohio—my hometown—to complete a Graduate Dietetic Internship Program in Human Nutrition at The Ohio State University. One year later, I became a Dietitian after passing my registration examination.
As a Registered & Licensed Dietitian Nutritionist I have practiced in North Carolina, Florida, South Carolina, and Ohio. I have worked with individuals of all ages, from newborns to the elderly, with a diverse spectrum of needs and conditions.
My personal desire to understand health and counseling led me to complete the Certificate of Training in Pediatric & Adolescent Weight Management and the Certified Health Coach Training Program with the State University of New York, Purchase College. I now practice as a Board Certified Holistic Health Practitioner.
Culinary preparation goes hand-in-hand with healthy eating, and holds a special place in my heart. I now offer Personal Chef services—planning, shopping, and preparing healthy, balanced meals and snacks for my very busy clients, including special events.
My Yoga practice specializes in improving flexibility and balance, building strength, reducing stress, and enhancing relaxation. I currently teach a Turtle Flow Yoga class Wednesday evenings from 6:35-7:35pm at your Arena District Athletic Club. I am also available for private, semi-private, and private group yoga sessions per request.
I am passionately dedicated to providing you with the positive support necessary to achieve optimal health.
Servicing individuals, families, and groups, including corporate wellness clients within the Columbus, Ohio metropolitan area. Online support is available per request.
Contact me today to schedule your Nutrition & Health Consultation. This is an opportunity for me to meet you, and to understand how I can assist you in your journey to optimal health!
To learn more about my Nutrition & Health Services at your Arena District Athletic Club please view www.ArenaAthletic.com/Services/Nutrition-Health/