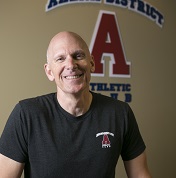 Nov 08, 2019
Arena District Athletic Club Open House: Nov. 11 – 14
FINISH 2019 STRONG 💪 See what it's like to not just join…BELONG!
If you are not currently a member but interested in joining a clean and modern gym conveniently located in the heart of the Arena District, stop by anytime between 5 a.m. and 10 p.m. November 11 – 14.
Tour the Arena District Athletic Club facility at your leisure, meet Club staff, and enter to win a pair of tickets to a Blue Jackets home game! You will also receive a 10-day free trial and a Club t-shirt.
The Arena District Athletic Club is located at 325 John H. McConnell Blvd. Suite 150. Two hours of complimentary parking is available at the Neil Ave. Garage for all Club users.
Let's us know you're interested in coming! http://bit.ly/2Nt3tag 
*Current Arena District Athletic Club members not eligible for giveaways. No purchase required. See official rules.