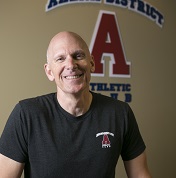 Nov 17, 2022
Hot Chocolate Run event information
Please see the below event information for your planning purposes. The Arena District Athletic Club remains open and accessible for you to come workout with us this weekend:
Friday: 5:30 a.m. – 7:30 p.m.
Saturday: 8:00 a.m. – 3:00 p.m.
Sunday: 9:00 a.m. – 2:00 p.m.
Hot Chocolate Run | Sunday, November 20
The
Hot Chocolate Run
event benefiting St. Jude Children's Research Hospital® takes place at McFerson Commons on Sunday, November 20 from 7:30 a.m. to approximately 11:30 a.m. The run
follows this course
through downtown Columbus and the Arena District.
Note: Arena District parking garages will remain open and accessible, with the exception of the Marconi Garage. Marconi Garage parkers who need access Sunday before 1:00 p.m. will be accommodated at an alternate garage by onsite parking staff.
There are temporary street closures planned along the course to accommodate the 5,000 run participants, including:
Beginning at 6:00 p.m. on Friday, November 18 and reopening by 6:00 p.m. Sunday, November 20:
West St. (between south of 191 W Nationwide Blvd. and Marconi Blvd.)
Temporary closures on Sunday, November 20 beginning at 3:00 a.m. and reopening by 1:00 p.m. Sunday:
Nationwide Blvd. (between McConnell Blvd. and Front St.)
Marconi Blvd. (between Nationwide Blvd. and Spring St.)
Spring St. (between Marconi Blvd. and Neil Ave.)
Long St. (between Hocking St. and Marconi Blvd.) – reopening by 11:00 a.m.
Neil Ave. (between Spring St. and Long St.) – reopening by 11:00 a.m.
West St. (between Nationwide Blvd. and Marconi Blvd.)
Additional information can be found by visiting the Hot Chocolate Run website: https://hotchocolate15k.com/city/columbus/