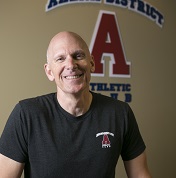 Aug 22, 2019
17 Ways to Make Your Next Run More Fun
There are runs where you feel like you could keep going for miles. Your ponytail is flying fabulously in the wind, your legs feel fresh, and you're cranking up the speed. Then there are the other runs. The ones that feel hard, where someone must have poured cement in your legs overnight. The ones that hurt, and the ones where you just feel bored, frustrated, or sapped of motivation. The cure for the common crappy run? Make a game of it! Here are 17 ways to make your next run feel less like a chore and more like recess.
1. Change up your route.
"It's easy to fall into the trap of constantly heading out for the same 5-mile loop," says New Jersey-based runner Sarah Johnston. "But that can get boring fast. So I'll try to go somewhere completely different, either by planning it out or just by taking a different turn at some point along my regular route."
2. Get visual with it.
Sometimes our bodies hold us back from having great runs. Other times it's our minds doing the dirty work—and training your mind is just as important as training your body. "I try to picture myself crossing the finish line with a personal record," says Jackie Madrigal, 37. "That helps me push harder during every single run and race." Really visualizing your success brings you closer to making it a reality.
3. Make a race part of your training run.
The thought of running 10 half-marathon-training miles on a summer Saturday can feel daunting. But break it up by adding a mid-run race to the mix. "Find a local 10K and run three easy miles to the start to warm-up," says Boston-based marathoner and running coach Jana Ross, 26. "Race the 10K at goal pace, and then run a mile to cool down." Bonus: "You get to have spectators cheering you on during your training run," Ross says.
4. Pump up the jams.
There's no shame in your playlist game, so if your played out Top 40 list isn't getting you out the door anymore, get quirky with it. "Sometimes I make a playlist out of my favorite middle school jams," Johnston confesses. "Whatever works!"
5. Skip town.
The great thing about running is you can just get out your front door and go for a run. So easy and convenient! But sometimes, getting on a train, subway, or bus to run somewhere new is worth the effort. "Drive to a new town or take public transportation to a different neighborhood and make a day out of it," says runner Kaitlin Fuelling, 25, who blogs at California Endless Summer. "Treat it like a vacation or mini-getaway that starts with a run. You'll be surprised how much you can see or soak up by running around town. It's a great way to explore and change it up."
6. Do it for the sunrise.
"If I don't have someone holding me accountable, the only reason I get out of bed to run is to see the sunrise," says 22-year-old Michaela Spannaus. "Never once have I regretted that decision."
7. Create a personal mantra or go-to song.
It doesn't have to be super serious—it just has to work for you. "When I'm running uphill, I start singing 'Push It' by Salt-N-Pepa in my head," says Madrigal. "For some reason, this oldie-but-a-classic keeps me from stopping and gets me on a steady rhythm. Plus, it makes me smile."
8. Break up your run with body-weight exercises.
"If I'm dragging, I stop and do a few quick sets of push-ups or squats," says L.A.-based marathoner Meghan Conroy, 32. "It breaks up the monotony of the run and gives me a bit of an energy boost to finish up." Do triceps dips on a park bench, do a few walking lunges until you get to the next light post, or do 10 push-ups every mile. Bonus: You get your cardio and strength in for the day.
9. Plan your post-run reward.
"I pass the time during a long run by planning what I'm going to eat when I get home," says Johnston. "I love a good post-run Ore-Ida potato." Pro tip: Make sure you have your favorite foods on hand before you leave for your run so they'll be ready when you get home. No one likes a hangry runner.
10. Run in pursuit of celebrity sightings.
Keep your eyes peeled and your mind off the fact that you're six miles from home by running where you just might spot your favorite actress, singer, or fellow runner. "When I lived in New York City, I'd run by Carmelo Anthony's Upper West Side apartment, near Madison Square Garden before or after big concerts or events, or around Broadway theaters, hoping to catch a glimpse of someone exciting," says Conroy.
11. Ditch the data.
It's easy to get hooked on numbers. But going GPS-less can reignite that OMG I love running feeling. "I didn't run with a watch for two years, even during marathons," says Spannaus, who recently ran a 3:08 at the Boston Marathon. "Those remain some of my fastest, most enjoyable races."
12. Smile!
Seriously. "I once overheard a race volunteer say, 'These runners never smile—they aren't even having fun,'" says Madrigal. "After that, I made a point to smile at every single person I saw on the sidelines and in the race with me—and I smiled especially big at the volunteers and photographers."
13. Rely on the buddy system.
Not up for some lonesome miles? Enlist a friend to meet you for a run, especially if you usually fly solo. Consider joining a group run at your local running store. "Running with friends reminds me that running doesn't have to be all business all the time," says New York City-based marathoner Lauren Wolman, 26, who blogs at Peanut Butter is my Boyfriend. "Training can be mentally and physically exhausting, but having one run per week that you can share with a friend or a group can make it much more enjoyable. You start chatting and before you know it, you've been running for an hour."
14. Plot the ultimate end game.
Sure, you could finish your run back at home. Or you could make it slightly more exciting. "End your run at a cool coffee shop you've been wanting to try, or plan to meet your friends for a post-run brunch," says Fuelling. "Or go crazy and run straight to get a massage or go for a dip in the ocean."
15. Hit the trails!
If you're normally a pavement-only runner, switch it up by doing some back-country running. "It's so much fun getting off the roads and running in the woods," says Johnston. "I find I'm not at all concerned with my splits when I'm trail running because I know they're going to be slower—and it doesn't matter."
16. Consider a running vacation.
"Last year, I signed up for a half-marathon in Sweden so I could travel with my sister and get to run in a new location," says Fuelling. "It was a new and different way to bond with my family, and we had so much fun." Whether you go all-out and run abroad or find a race that coincides with your family trip down the Jersey Shore, do it for the fun and family bonding.
17. Sign up for a small local race.
Big-city racing is fun, and the races are usually well-organized and feature loads of spectators. But sometimes, signing up for that local $5 5K on a whim can be just what you need to put that no-pressure pep back in your step. "Small races bring me back to what it was like running my very first race," says Johnston.
By Alison Feller
The Arena District Athletic Club is more than just a gym, it's a premier fitness facility located in the heart of the Arena District in downtown Columbus. We provide convenience and quality, featuring top-of-the-line equipment, top-notch personal trainers, spa-like locker rooms and a wide variety of free group fitness classes daily including Cardio, Spinning, Barre Fusion, Yoga, Boot Camp and more. We offer free 2-hour parking and convenient contract-free memberships, to fit your healthy lifestyle needs. Don't just join, belong.