Meet
The Team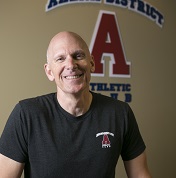 Bill Brown
General Manager
View More
Bill Brown
email Bill
614-461-7785
Bill is the general manager at the Arena District Athletic Club. He is a certified personal trainer since 2006 through the American Council on Exercise.
Bill developed the fitCAMP Group Training program design to achieve quick results and lasting benefits! With over 20 years of experience in hospitality management Bill understands the importance of serving his members and building lasting relationships.
Bill is an avid exercise enthusiast and has been involved in physical fitness all his life. He has competed in football, basketball, softball and rugby, and currently enjoys resistance and circuit training, biking, playing golf and kickball. He also completed the Columbus half-marathon.
Steve Levert
Assistant Manger
View More
Steve Levert
email Steve
614-461-7785
Steve serves as assistant manager to the Arena District Athletic Club. He has over 15 years of experience in the hospitality industry.
In his past roles, Steve has served as a manager with Columbus Hospitality and has been responsible for managing guest service and banquet operations. He has a passion for body building, movies and photography. Steve is married with two children.
Jimmy Peters
Personal Trainer
View More
Recent posts by
Jimmy
No Recent Posts
Aron Layman
Personal Trainer
View More
Recent posts by
Aron
No Recent Posts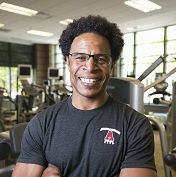 Charles Gibson
Personal Trainer
View More
Recent posts by
Charles
No Recent Posts