Meet
The Team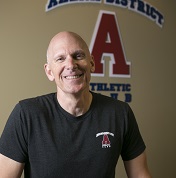 Bill Brown
General Manager
View More
Bill Brown
email Bill
614-461-7785
Bill is the general manager at the Arena District Athletic Club. He is a certified personal trainer through the American Council on Exercise, and has more than 20 years of experience in hospitality management with the Crowne Plaza Hotel and Deer Creek Resort and Conference Center.
Bill is an avid exercise enthusiast and has been involved in physical fitness all his life. He has competed in football, basketball, softball and rugby, and currently enjoys resistance and circuit training, Cross Fit, biking, playing golf and kickball. He also completed the Columbus half-marathon.
Steve Levert
Assistant Manger
View More
Steve Levert
email Steve
614-461-7785
Steve serves as assistant manager to the Arena District Athletic Club. He has over 15 years of experience in the hospitality industry.
In his past roles, Steve has served as a manager with Columbus Hospitality and has been responsible for managing guest service and banquet operations. He has a passion for body building, movies and photography. Steve is married with two children.
Brittany Lewis
Member Program Coordinator, Personal Trainer
View More
Brittany Lewis
email Brittany
I attended CSCC where I received an associate's degree in Sports and Exercise Science. I began working at the club in 2013 as a part time employee. I became certified as a trainer through the American College of Sports Medicine. I recently became certified in FMS (functional movement screenings) as well. I get to help people and be a part of positive change in their lives
Terry Adams
Member Services Supervisor / Personal Trainer / Group Fitness Instructor
View More
Terry Adams
email Terry
Terry is a Certified Personal Fitness and Kickboxing trainer through the Aerobics and Fitness Association of America and the International Sports Conditioning Association. He is also a certified Johnny G spinning instructor. As a certified Johnny G instructor for over 6 years and a certified personal trainer for 2 years, Terry has continued his love of fitness since graduating from Columbus State. His training emphasis includes core and muscular strength and endurance, improved balance and running.
Jimmy Peters
Personal Trainer
View More
Jimmy Peters
email Jimmy
330-204-4878
Jimmy has been a personal trainer since 2005 and has worked with various populations from the average business individual, to children, and even professional athletes. In 2011 he earned his Masters Degree in Exercise Science and Health Promotion with a focus on Performance Enhancement and Injury Prevention from The California University of Pennsylvania. In 2005 he graduated from Miami University with a Bachelors Degree in Health & Sports Studies with a focus on Exercise Science and Nutrition. He is a Certified Personal Trainer and Certified Strength & Conditioning Specialist through the National Strength & Conditioning Association as well as a Performance Enhancement Specialist through the National Academy of Sports Medicine.
Jimmy believes one's fitness goals are achieved through hard work and dedication to fitness and nutrition. Results are achieved through an intense and consistent workout routine. Jimmy has worked with clients ranging from weight loss, improved fitness, and sports performance enhancement. In his free time Jimmy enjoys playing basketball, snow and water skiing, working out, and participating in 5k's.