Meet
The Team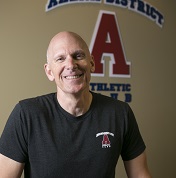 Bill Brown
General Manager
View More
Bill Brown
email Bill
614-461-7785
Bill is the general manager at the Arena District Athletic Club. He is a certified personal trainer since 2006 through the American Council on Exercise.
Bill developed the fitCAMP Group Training program design to achieve quick results and lasting benefits! With over 20 years of experience in hospitality management Bill understands the importance of serving his members and building lasting relationships.
Bill is an avid exercise enthusiast and has been involved in physical fitness all his life. He has competed in football, basketball, softball and rugby, and currently enjoys resistance and circuit training, biking, playing golf and kickball. He also completed the Columbus half-marathon.
Steve Levert
Assistant Manger
View More
Steve Levert
email Steve
614-461-7785
Steve serves as assistant manager to the Arena District Athletic Club. He has over 15 years of experience in the hospitality industry.
In his past roles, Steve has served as a manager with Columbus Hospitality and has been responsible for managing guest service and banquet operations. He has a passion for body building, movies and photography. Steve is married with two children.
Krista Johnson
Member Services Supervisor
View More
Recent posts by
Krista
No Recent Posts
Jimmy Peters
Personal Trainer
View More
Jimmy Peters
email Jimmy
330-204-4878
Jimmy has been a personal trainer since 2005 and has worked with various populations from the average business individual, to children, and even professional athletes. In 2011 he earned his Masters Degree in Exercise Science and Health Promotion with a focus on Performance Enhancement and Injury Prevention from The California University of Pennsylvania. In 2005 he graduated from Miami University with a Bachelors Degree in Health & Sports Studies with a focus on Exercise Science and Nutrition. He is a Certified Personal Trainer and Certified Strength & Conditioning Specialist through the National Strength & Conditioning Association as well as a Performance Enhancement Specialist through the National Academy of Sports Medicine.
Jimmy believes one's fitness goals are achieved through hard work and dedication to fitness and nutrition. Results are achieved through an intense and consistent workout routine. Jimmy has worked with clients ranging from weight loss, improved fitness, and sports performance enhancement. In his free time Jimmy enjoys playing basketball, snow and water skiing, working out, and participating in 5k's.
Aron Layman
Personal Trainer
View More
Aron Layman
email Aron
Aron is a Certified Personal Trainer through the National Strength and Conditioning Association, and the American Council on Exercise. He is also CrossFit Certified. He has degrees in both Sports and Fitness Management and Human Development & Family Studies.
Aron has had the opportunity to work with a wide range of individuals in various capacities over the last 5 years. He specializes in constantly varied functional movements performed at higher intensities. His knowledge and expertise will help you achieve your fitness goals and provide you with an incredible sense of accomplishment.
Aron has a passion for educating people on how to make fitness a permanent fixture into their everyday lifestyle. With his attention to detail and willingness to stay abreast of the latest fitness research, he is able to develop programs that will effectively suit his clients' health needs.
Kalique Shields
Member Services
View More
Recent posts by
Kalique
No Recent Posts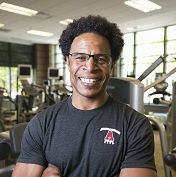 Charles Gibson
Personal Trainer / Group Fitness Instructor
View More
Charles Gibson
email Charles
I have been a fitness professional for over sixteen years. Wow that still amazes me! From time to time I am asked what do you do? My answer to that is. I inspire hope and change in others through fitness! You could say that is my mission, but it didn't start that way.
I have always led a physically active lifestyle. I started out informally helping my friends and making suggestions to how they could get the most out of their workout and making sure they had proper form when working out. This led me to teaching Body Pump at Cal Fit, then kickboxing and spinning. Fast forward to two years later, and I am in Ft.Lauderdale completing my personal training certification with ISCA.
My clients have ranged from athletic teams, firefighters, corp executives, retiree's and stay at home moms. I am in my fifth season as a track and field coach at New Albany High School. About seven years ago I was introduced to yoga which let me to Thai Yoga Massage. I have been studying and practicing Thai Yoga Massage for four plus years now. I went to Montreal to Lotus Palm to complete my essential certification after starting my studies here in Columbus. I have either led or assisted in 10 Thai Yoga Massage partner workshop in the past year. The workshops allow me to share this form of bodywork with the masses. My next steps are to complete the 3rd level of TYM certification this Summer in New York