Meet
The Team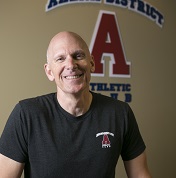 Bill Brown
General Manager
View More
Bill Brown
email Bill
614-461-7785
Bill is the general manager at the Arena District Athletic Club. He is a certified personal trainer since 2006 through the American Council on Exercise.
Bill developed the fitCAMP Group Training program design to achieve quick results and lasting benefits! With over 20 years of experience in hospitality management Bill understands the importance of serving his members and building lasting relationships.
Bill is an avid exercise enthusiast and has been involved in physical fitness all his life. He has competed in football, basketball, softball and rugby, and currently enjoys resistance and circuit training, biking, playing golf and kickball. He also completed the Columbus half-marathon.
Steve Levert
Assistant Manger
View More
Steve Levert
email Steve
614-461-7785
Steve serves as assistant manager to the Arena District Athletic Club. He has over 15 years of experience in the hospitality industry.
In his past roles, Steve has served as a manager with Columbus Hospitality and has been responsible for managing guest service and banquet operations. He has a passion for body building, movies and photography. Steve is married with two children.
Jamie Sommer
Member Services
View More
Recent posts by
Jamie
No Recent Posts
Nick Williams
Member Services
View More
Recent posts by
Nick
No Recent Posts
Jimmy Peters
Personal Trainer
View More
Jimmy Peters
email Jimmy
330-204-4878
I have been active all my life with sports and outdoor activities and I knew I wanted to pursue a career in the health/fitness field but I just fell into personal training after college. I received my bachelors degree from Miami University with a focus in Exercise Science and Nutrition in 2005. I was debating whether or not to go back to school right away to get my masters degree or find a job. So I took a job as a personal trainer in 2005 here in Columbus and haven't looked back since.
Through the years I have worked with people from every walk of life in nearly every situation possible, from working with young athletes on up to the professional ranks. I went back to school and got my masters in sports performance enhancement and injury prevention in 2011 just before coming to work here at the Arena District Athletic Club in January 2012.
NASM Performance Enhancement Specialist (2011)
NASE Specialist in Speed and Explosion (2011)
NSCA Certified Strength & Conditioning Specialist (2007)
NSCA Certified Personal Trainer (2005)
CPR & AED Certified
Specialties: Helping people achieve their goals. Whether it be better nutrition, weight loss, improved fitness, or sports performance.
Recent posts by
Jimmy
No Recent Posts
Aron Layman
Personal Trainer
View More
Aron Layman
email Aron
614-266-4040
Aron has a passion for helping people. He is known for his down-to-earth style that is straightforward and has a way of speaking to people wherever they may be in life.
As a Personal trainer and Wellness Coach, Aron's focus is on living a balanced life; body, mind, and spirit. His educational background is quite broad with a Master's Degree in Theology and additional degrees in the areas of Human Ecology and Health and Fitness Management. His diverse knowledge and experiences give him a unique grasp on real-life challenges.
Aron's goal is to inspire, educate, and uplift others.
Recent posts by
Aron
No Recent Posts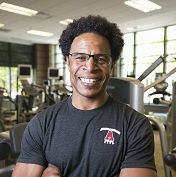 Charles Gibson
Personal Trainer
View More
Charles Gibson
email Charles
614-361-9618
Charles has been a fitness professional since 1999. He has always led a physically active lifestyle. His career began informally as he helped friends with proper alignment and suggestions to maximize workouts.
Charles was soon teaching kickboxing and spinning. Within a couple years, he completed his personal training certification with ISCA.
Charles was introduced to yoga in 2010; this journey led him to Thai Yoga Massage. He has been now been studying and practicing Thai Yoga Massage. He holds certification in Thai Yoga Massage and has completed three levels of a six level program.
Charles has worked with a wide variety of populations. His clients have ranged from athletic teams, firefighters, corporate executives, retiree's and stay-at-home moms. In recent years, Charles has focused on Thai Yoga Massage partner workshops.
Charles loves to make people comfortable in yoga poses to help them relax, feel whole and smile!
Maggie Fekete
Nutritionist, Personal Yoga Trainer, Health Coach
View More
Maggie Fekete
email Maggie
614-719-9616
Maggie Fekete was born in 1985 and is aging gracefully! She attributes her babyface to her educational background as she truly practices and embodies what she teaches. Maggie is an Experienced-Registered Yoga Teacher (E-RYT 500), Nutritionist, Certified Health Coach (CHC), & Board Certified Holistic Health Practitioner (BCHHP)!
She was formerly a Registered Dietitian and Licensed Dietitian. She actively practiced for 12 years.
Do you desire to look and feel younger than your chronological age?!
Do you aspire to discover the very best version of yourself?!
​Maggie is passionately dedicated and provides the positive support that is necessary to achieve optimal wellness!
Contact Maggie today for availability and scheduling!
If you desire to learn more about Maggie's background and offerings, please visit: www.MaggieFekete.com/education