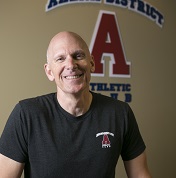 Oct 02, 2019
How to Do an Ab Wheel Rollout the Right Way
Fix your form and make sure you're not leaving your six-pack gains on the floor
Try it out, and you'll immediately know if you're using the proper form. "The best part about this exercise is once you feel it done right you'll know immediately because it's much harder," Cavaliere says.
Since you're using much more effective movements, you might only be able to do a few reps with proper form, compared to high volume using the old, incorrect method. Don't worry; Cavaliere says that you'll only need 10 to 20 reps to really get a good workout when you're rolling out properly.
The Arena District Athletic Club is more than just a gym, it's a premier fitness facility located in the heart of the Arena District in downtown Columbus. We provide convenience and quality, featuring top-of-the-line equipment, top-notch personal trainers, spa-like locker rooms and a wide variety of free group fitness classes daily including Cardio, Spinning, Barre Fusion, Yoga, Boot Camp and more. We offer free 2-hour parking and convenient contract-free memberships, to fit your healthy lifestyle needs. Don't just join, belong.