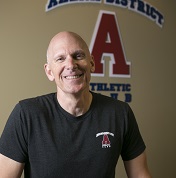 Jan 06, 2020
THE MENTAL HEALTH BENEFITS OF EXERCISE ARE WORTH THEIR WEIGHT IN SWEAT
That exercise is good for you is not exactly a revelation; however, according to research, the more you know about those benefits, the more likely you'll be to engage in physical activity. And you might be surprised to read how the mental benefits of exercise stack up against the physical.
If you, like me, consider watching Jeopardy or playing Candy Crush to be mental exercise, you may be thinking about things all wrong. According to Gregory Scott Brown, MD, FAIHM, founder and director of the Center for Green Psychiatry, physical activity actually grows the brain in size, just like it does your muscles. It also increases the brain's complexity. "Aerobic exercise, specifically, has been found to lead to an increase in blood flow in brain regions like the hippocampus, an area involved in learning, memory, and controlling stress," he says. "Some theories suggest that exercise increases a protein called brain derived neurotrophic factor which supports brain health, improves cognitive skills, and helps reduce symptoms of depression and anxiety."
So, physical exercise not only upgrades your brain to make you "smarter" but also enables better moods. "We know that exercise decreases our risk for type 2 diabetes and heart disease, but it also decreases our risk for developing depression and it may help reduce symptoms of burnout, stress and anxiety," says Dr. Brown. He tells me that really any type of exercise—cardio, yoga, or strength-training—helps improve mental wellness, so it's dealer's choice. "When it comes to the mind, what's important is that we're moving our body, not the specific type of exercise we are doing," he says. "A large study followed over 30,000 adults for 11 years and found that regular exercise, regardless of intensity, was a protective factor against depression, so there's no need to feel like we have to overdo it." He explains that while researchers are still looking into just how much is needed to activate these benefits, some suggest that engaging in at least one hour/week of regular exercise could reduce future cases of depression from developing.
More generally, Dana Hunnes, PhD, MPH, RD, a senior dietitian at UCLA Medical Center, tells me not enough research has been done around which types of exercise best boosts overall brain health, but that the assumption is, again, that anything goes. "Most of the research to date has been done with walking at a moderate intensity," she tells me. "But it is speculated that these benefits should be obtained with almost any form of exercise that gets the blood pumping."
One last note, too: the mental benefits of exercise helps the brain indirectly by enabling us to sleep better at night, says Hunnes. "This is beneficial for brain health by allowing us to have a deeper sleep cycle with REM sleep and is restorative," she says. For best results to this end, Richard J. Castriotta, M.D., FCCP, FAASM, a Professor of Clinical Medicine at the University of Southern California Keck School of Medicine, advises exercising first thing in the AM. "We sleep best when we have physical activity during the day, and if you exercise in the morning you'll sleep better at night," he says.
So, the next time you're feeling a little mentally slow, forgetful, anxious, or depressed, consider getting your steps in, stat. After all, ensuring your brain is physically fit will not just benefit you today but also tomorrow; some research shows it may help to prevent dementia and Alzheimer's.
The Arena District Athletic Club is more than just a gym, it's a premier fitness facility located in the heart of the Arena District in downtown Columbus. We provide convenience and quality, featuring top-of-the-line equipment, top-notch personal trainers, spa-like locker rooms and a wide variety of free group fitness classes daily including Cardio, Spinning, Barre Fusion, Yoga, Boot Camp and more. We offer free 2-hour parking and convenient contract-free memberships, to fit your healthy lifestyle needs. Don't just join, belong.