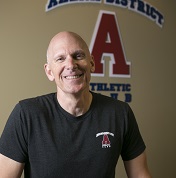 May 30, 2019
The Top 10 Sports Nutrition & Protein Bars
Who doesn't love a good protein bar? Whether you need a quick pick-me-up or just something to tide you over until mealtime, protein bars are a fantastic option that provide nutrients and energy with great taste—and usually very little (or even zero) sugar. But with so many on the market, it's hard to know which one to pick. So we've rounded up some of the best and most popular protein bars for you.
No matter if you're on a low-carb, high protein diet or just trying to lose weight, a protein bar is a great choice. They help keep you full between meals, and have vastly more nutritional value than a candy bar. They're better for breakfast than cereal and pastries. They work awesome as a between-meal snack. And a lot of people substitute them for meals when altogether.
They're also great for athletic recovery. After a hard session in the weight room or CrossFit arena, a protein bar can give your muscles and tissues a kickstart to recovery with a jolt of amino acids, to get you back in the game faster while keeping vital nutrients flowing.
Protein bars come in all sorts of shapes, sizes, and flavors. The most popular—LUNA bars, PureProtein, and ONE come to mind—have been around for years. But the new breed of protein bars like GoMacro, PowerCrunch, and thinkThin are taking the protein bar into previously uncharted territories, providing vegan, gluten-free, and kosher options. Even stalwart brands like Gatorade and SlimFast have gotten in on the protein bar action.
So quit snacking between meals, kickstart your recovery, and start enjoying healthy snacks today. There's a flavor to suit every taste. And most come in a variety of flavors and package sizes, so experimenting until you find the one that's right for you is a breeze. So try some of these bestselling protein bars, and take our health and fitness into your own hands.
1. Gatorade Whey Protein Bars
The perfect post-workout snack, it's made with 20g whey and milk protein to help rebuild your muscles, so you come back strong. Available in Almod Butter, Chocolate Chip, Black Raspberry, and Salted Caramel flavors.
2. Pure Protein Bars Variety Pack
This delicious, gluten free, chewy chocolate chip bar has 20g of whey protein to help fuel your day. Comes with six each of Chocolate Peanut Butter, Chocolate Deluxe, and Chewy Chocolate Chip. Only about 200 calories each (depending on flavor).
3. thinkThin High Protein Bars
With 20g of soy and whey based protein, this is a great multipurpose nutritional bar that can go from an energy boosting snack to a meal replacement when paired with a piece of fruit. With 0g sugar and no artificial sweeteners. Available in Crunchy or Creamy peanut butter, Chocolate Fudge, or brownie flavors.
4. LUNA Lemonzest Bar
8g of soy protein, it uses organic whole grain oats so it's gluten free, and sweetened with sugar cane and brown rice syrups. While this is the top-rated flavor, it's also available in Blueberry Bliss and Chocolate Coconut.
5. RXBAR Real Food Protein Bar
RXBARs are whole food protein bars made with egg whites, dates, nuts, and 100 percent natural ingredients. It's gluten-free and dairy-free with no artificial flavors, preservatives, or fillers. 12g protein, 5g fiber, 210 calories, 0g added sugars. Available in Peanut Butter, Peanut Butter & Berries, and Peanut Butter & Chocolate flavors.
6. ONE Protein Bars, Best Sellers Variety Pack
This is a great deal. These gluten-free bars are a perfect guilt-free snack when your energy is low. Variety pack includes Birthday Cake, Almond Bliss, and Maple Glazed Doughnut, and Peanut Butter Pie flavors. 20g of whey and milk protein, 1g of sugar, and zero regrets.
7. Atkins Protein Wafer Crisps
Like the wafer cookies we loved as kids, these keto-friendly wafers are available in Vanilla wafers with Peanut Butter filling, or Chocolate wafers with Chocolate Mint filling. Either way, they have no artificial flavors, colors, or preservatives, with just 11g of protein, 5g of fiber, 3g net carbs, and only 1g of sugar.
8. GoMacro MacroBar
Using vegan chocolate and a combination of pea protein and brown rice protein, GoMacro bars are USDA certified organic, gluten-free, non-GMO, vegan, kosher, soy-free, and C.L.E.A.N. and R.A.W. certified. Available in 12 flavors, this Peanut Butter & Chocolate Chip variety is the most popular.
9. SlimFast Keto Meal Bar
Take your keto to go. Each bar has 14g of fat, 7g of whey protein, coconut oil MCTs, and just 3g total sugars for just 3g net carbs. Plus, it's free from gluten, artificial sweeteners, and artificial flavors and colors. Available in Triple Chocolate or Peanut Butter flavors.
10. Power Crunch Protein Energy Bar
Get your power in nine tasty flavors. Power Crunch utilizes "high-dh hydrolyzed whey protein." These di- and tripeptides and Micro Peptides harness the power of PEPT-1 transporters, which deliver rapid absorption and delivery of protein throughout the body. For serious fitness enthusiasts.
By Jon Langston
The Arena District Athletic Club is more than just a gym, it's a premier fitness facility located in the heart of the Arena District in downtown Columbus. We provide convenience and quality, featuring top-of-the-line equipment, top-notch personal trainers, spa-like locker rooms and a wide variety of free group fitness classes daily including Cardio, Spinning, Barre Fusion, Yoga, Boot Camp and more. We offer free 2-hour parking and convenient contract-free memberships, to fit your healthy lifestyle needs. Don't just join, belong.