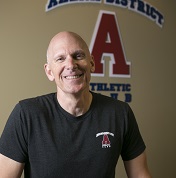 Oct 29, 2019
Ways to Stay Motivated at Maintaining Fitness
Making big lifestyle changes like exercising and dieting are really difficult to commit to. Many get discouraged and don't keep to the rigorous schedule, but hope isn't lost! There are lots of different ways to keep your motivation up. Studies have proven that dieters who keep a food diary lose twice as much weight than those who kept no records, so here's a blueprint from Health Fitness Revolution to give you that push to keep you going!
Set a goal: 
There's nothing more motivating than that first 5K looming in bold letters on the calendar. Register early and commit to an exercise program that will get you in shape by race day. You should set realistic goals that include clear milestones, and as you progress toward your goal, you'll find a ripple effect occurs and things fall into place in your work, home life, and health! The goal doesn't have to be an organized race. Maybe it's a mission to fit into that old pair of jeans buried in your closet or a new bikini on the beach. Whatever it is is, define it, write it down and revisit it daily.
Change your perspective: 
Start thinking like an athlete! View every obstacle like a challenge to be overcome, including workouts at tough times. Take inspiration from everyone you meet—even people who can't be physically active, it reinforces why you're lucky. Whether you need to hang an "I'm lucky" sticky note on the mirror, or you can see the power of health in your children's eyes, committing to a fitness routine begins in your head.
Schedule a regular workout time:
 Some of the most committed exercisers do it every day before the sun comes up or late at night when the kids are in bed. Sit down with your weekly schedule and try to build in an hour each day to be good to your body, and in turn, your mind.
Think variety:
By nature, humans need change and variety to stay motivated. We also need to have fun — even while we're working hard. So do both! There is no set formula- so make your own! Make sure you include activities you truly enjoy and look forward to doing. Think movement that's more like recreation and makes you forget you're working out — such as dancing, hula hooping, yoga or playing sports with family and friends.
Create a support system: 
In order to stick to a fitness program, it helps to have motivation and encouragement from other people. Here's one way: find a friend with a shared zest for running, and planning scheduled workouts together. It's easy to hit the snooze button when it's just you, but much harder to leave a friend waiting at the track. Consider joining a social networking site or online community with fitness trainers and nutrition experts (like this one here! And download our APP here) — and support from other people trying to lose weight and maintain healthy eating and exercise routines. People who get this kind of online support are proven to lose three times more weight than people going it alone.
The Arena District Athletic Club is more than just a gym, it's a premier fitness facility located in the heart of the Arena District in downtown Columbus. We provide convenience and quality, featuring top-of-the-line equipment, top-notch personal trainers, spa-like locker rooms and a wide variety of free group fitness classes daily including Cardio, Spinning, Barre Fusion, Yoga, Boot Camp and more. We offer free 2-hour parking and convenient contract-free memberships, to fit your healthy lifestyle needs. Don't just join, belong.