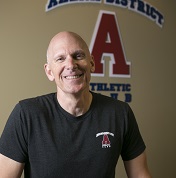 Jun 08, 2018
Boot Camp Workout: Is it Right for You?
Fitness boot camps offer an opportunity to build your strength and endurance. But make sure you know what to expect before marching into boot camp.
Just as the armed forces are experimenting with changes to boot camp, such as adding exercises similar to those performed in yoga or Pilates, fitness buffs are signing up for boot camp workouts modeled on old-school military training. What's the appeal of a boot camp workout? Building strength, endurance and agility to conquer your daily routine. But are you up to the challenge?
Just What is a Boot Camp Workout?
Boot camp workouts can vary but generally include a fairly intense mix of strength training and aerobic elements. One workout might stress calisthenics while another stresses military-style drills.
In most cases, you can expect to do calisthenics, such as pullups, pushups, lunges and crunches, as well as drills and sprints. In essence, a boot camp workout is a type of interval training — bursts of intense activity alternated with intervals of lighter activity.
What are the Benefits of a Boot Camp Workout?
The goal of a fitness boot camp is to provide a whole-body workout that builds strength and endurance. These workouts also attract many people because they:
Offer a more challenging and varied workout
Require little or no special equipment
Create a sense of camaraderie among the participants
Is a Boot Camp Workout for Everybody?
Fitness boot camps often appeal to individuals looking for a more intense workout. Boot camp exercises usually involve ballistic, rapid movements that can be too challenging to those who aren't already in shape. But if you have a strong foundation of strength and aerobic training, you're probably ready for boot camp. Before you sign up, though, ask how the program is structured and if there are any prerequisites to assess if it will be a good fit for you.
If you are older than age 40, are pregnant, haven't exercised for some time or have certain health conditions, it's a good idea to check with your doctor before starting a boot camp class or any new exercise program.
It's also important to let your instructor know if you have health issues or special needs. And be sure to tell your instructor if you have difficulty with a particular exercise. If the movements in the class are new to you, take it slower at first to ensure that the way you are moving is correct. Stop if you get fatigued or tired to the point where your technique breaks down. Skilled instructors are attentive to proper form and technique and can adapt exercises for you.
Does Boot Camp Deliver Results?
Many fans say this type of workout is great for improving overall strength and conditioning. In addition, this type of high intensity aerobic interval training burns more calories in less time compared with moderate aerobic activities.
Finally, a well-structured boot camp workout can help you meet the recommendations for physical activity in healthy adults. The Department of Health and Human Services recommends that healthy adults include aerobic exercise and strength training in their fitness plans, specifically:
At least 150 minutes of moderate aerobic activity, 75 minutes of vigorous aerobic activity, or an equivalent combination of moderate and vigorous aerobic activity a week.
Strength training exercises at least twice a week.
Article by: Mayo Clinic
The Arena District Athletic Club is more than just a gym, it's a premier fitness facility located in the heart of the Arena District in downtown Columbus. We provide convenience and quality, featuring top-of-the-line equipment, top-notch personal trainers, spa-like locker rooms and a wide variety of free group fitness classes daily including Cardio, Spinning, Barre Fusion, Yoga, Boot Camp and more. We offer free 2-hour parking and convenient contract-free memberships, to fit your healthy lifestyle needs. Don't just join, belong.