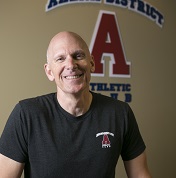 Aug 19, 2021
Central Ohio Heart Walk Event Information
Central Ohio Heart Walk | August 21, 2021
The 2021 Central Ohio Heart Walk supporting heart health takes place Saturday, August 21 throughout downtown Columbus from 8:30 a.m. – 11:30 a.m.
The Arena District Athletic Club will remain open normal hours throughout the weekend:
Friday: 5:30 a.m. – 7:30 p.m.
Saturday: 8:00 a.m. – 3:00 p.m.
Sunday: 9:00 a.m. – 2:00 p.m.
A portion of the walk event will occur on Long St. and Spring St. and at McFerson Commons. Arena District parking garages will remain open and accessible. For access to the Neil Ave. parking garage, we recommend taking Neil Ave. from the north, or Front St. to Nationwide Blvd. and turning south onto Neil Ave.
To accommodate the set-up and nearly 10,000 participants, there are temporary road closures planned in and around the Arena District, starting Friday, August 20 at 9:00 a.m. and reopening Saturday, August 21 by 1:00 p.m.:
West St. from Marconi Blvd. to Nationwide Blvd.
Spring St. from John McConnell Blvd. to West St. (curb lane closure only)
Saturday, August 21 from 6:00 a.m. to 1:00 p.m.:
John McConnell Blvd. from Spring St. to New Public Ln.
View the 5K and 1 Mile event course maps HERE.