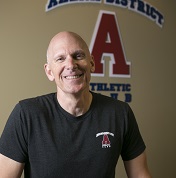 Oct 20, 2016
Changes to Your Arena District Athletic Club App
Changes to Your Arena District Athletic Club App
In an effort to keep your in-club experience fresh and exciting, we're proud to announce the new and improved Arena District Athletic Club app! With this update comes a variety of performance enhancements including our new Advanced Referrals feature!
This update will require you to change how you login to the app.
Instead of your xID & passcode, you will now use your email & password.
After updating your app in the App Store or Google Play, follow these simple steps:
1) Click "LOGIN"
2) Enter your xID. This may be your phone number that we have on file at the club or another number that you have previously selected.
3) Enter your passcode (4 digits).
4) Enter email address that you use for your membership. This is on file at the club and we are happy to look it up for you.
5) Create your new password and confirm.
6) If prompted, choose your home club from the drop down, scan or enter your membership barcode and enter your last name.
Should you need assistance, please email info@arenaathletic.com or simply ask our Front Desk staff at the club! Thank you for being a valued member and we look forward to seeing you in the club soon. Stay fit everyone!