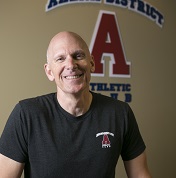 Aug 04, 2021
Pelotonia Event Information
Pelotonia | August 6 – 7, 2021
The Pelotonia bike ride supporting cancer research takes place this weekend, August 6-7 throughout downtown Columbus.
The Arena District Athletic Club will remain open normal hours throughout the weekend:
Friday: 5:30 a.m. – 7:30 p.m.
Saturday: 8:00 a.m. – 3:00 p.m.
Sunday: 9:00 a.m. – 2:00 p.m.
A portion of the event will occur along Long St. and Spring St., between McFerson Commons and Hocking St. Please be aware that there will be cyclist and foot traffic in the Arena District Friday evening and Saturday morning.
Locations
Lower.com Field, McFerson Commons, North Bank Park
Click here to view the event site map
Traffic
To accommodate the set-up and nearly 6,000 participants, there will be temporary road closures in and around the Arena District, starting Friday, August 6 at 9:00 a.m. and reopening Saturday, August 7 by 2:00 p.m.:
• Spring St. and Long St. from Hocking St. to Marconi Blvd.
• West St. from Spring St. to Nationwide Blvd.
• John H McConnell Blvd. from Spring St. to New Public Ln.
***Note: Neil Ave. (north of The Eye Center) and Nationwide Blvd. are scheduled to remain open.
Parking
Arena District parking garages will remain open throughout the event. For access to the Neil Ave. parking garage, we recommend taking Neil Ave. from the north, or Front St. to Nationwide Blvd. and turning south onto Neil Ave.
Schedule
• Friday, August 6, 6:00 p.m. to 8:00 p.m.: Rider Opening Ceremony at Lower.com Field
• Saturday, August 7, 5:00 a.m. to 11:30 a.m.: Ride Start at McFerson Commons/North Bank Park
Sunny Street Café is nearby and a great spot to grab breakfast and coffee if you plan to support riders before or after your workout!