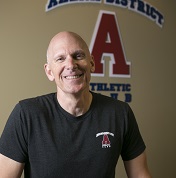 Feb 09, 2018
Personal Training VS Small Group Training: Which One is For You?
It all comes down to your goals—and what motivates you to get moving!
Looking to find some renewed workout motivation? You're not alone. When morning jogs or hour-long treadmill sessions aren't generating results, many turn to a trainer for support. Not long ago, folks looking to get fit needed to choose between finding a personal trainer, sweating along with dozens of people in a group class, or going it alone. Gyms and fitness studios are bursting with options —classes from barre to TRX training, capped at around eight students for maximum personalization and modifications, along with the boost of friendly peer pressure.
According to trainer Paisley Meekin, "small group training is the best of both worlds. You get the attention to detail, help with technique, and energy of support and encouragement that comes with community." At her gym, Meekin coaches groups of 2 to 6 people through strength-building, heart-pumping circuits, and indoor cycling classes.
"Small group training allows for modifications and alternate exercises geared toward each of our client's needs and goals. It's also nice to give clients some time to practice a movement without a trainer all up in their grill—because they take practice."
The benefits of small-group training don't stop there. According to Meekin, "people work harder and smarter in a small group. Natural willingness to push and do your best is a side effect of working out next to others. A small amount of competition is healthy! It's also a great way to see others in action, creating a great visual for perfecting form and technique. Group dynamics also increase the fun factor! When you have a room of fun people, it creates an environment that feels more fun—and humor and camaraderie no doubt ease those not-very-fun moments of a workout."
But Is Personal Training Still Worth the Cost?
Pro trainer Kisar Dhillon weighs in, "If someone is looking for training that will be safe, relationship-based, and focused on them, then one-on-one personal training is best." Dhlilon argues that private training yields the best results, because "the personal trainer is going to gear every workout, repetition, and set towards their client's goal. Personal trainers do whatever it takes to make that happen."
Whereas small-group training can work up a full-body sweat, personal trainers can go deeper and develop workouts tailored to a client's  abilities, preferences, and body type. According to Dhillon, "private personal training is safer because the trainer is focusing on one person's moves, form, and breathing technique. If a client has a dragging shoulder or any other discrepancy, it can be corrected immediately."
Still not convinced? Dhillon believes one-on-one personal training is unique thanks to "the relationship between the client and trainer, which is a huge factor in the success of the client's training program. In my experience, clients not only feel at ease expressing how they feel without the competition of others, but it also creates a level of trust and accountability towards each other."
Article by Allison Jones at Monthly Portland
The Arena District Athletic Club is more than just a gym; it's a premier fitness facility located in the heart of the Arena District in downtown Columbus. We provide convenience and quality, featuring top-of-the-line equipment, top-notch personal trainers, spa-like locker rooms and a wide variety of free group fitness classes daily including Cardio, Spinning, Barre Fusion, Yoga, Boot Camp and more. We offer free 2-hour parking and convenient contract-free memberships, to fit your healthy lifestyle needs. Don't just join, belong.