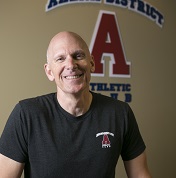 Feb 12, 2016
Rebel Wilson and I agree about the cardio thing
What's up guys!? Hope you all had a great week! My week was much better! Considering we all got our first glimpse of winter this week, I hope you all made it into the Arena District Athletic Club at least once. For me, this is week three of my six week challenge for my Health Assessment and I am happy to say I am still keeping up with it.
Brittany turned up the heat a little and has increased my weight and decreased the rounds. Seeing what she had in store for me, I thought I was going to die, but surprise, I didn't. Seems like this change in the workout came at just the right time because I was getting comfortable with the previous weight and the new weight is more of a challenge.
I have also realized that I don't do as much cardio as I should. I think it's because I hate the burden of having to re do my hair afterwards. So, I am challenging myself to increase my cardio and really get after it. Think I might dust off my fitbit and use that to keep me moving and motivated (once I find out where it's hiding that is). Good news is I can link it with the new ADAC mobile app and be sure that I am recording all of my moves and workouts. You can find the app in your app store, just search "Arena District Athletic Club."
What's your favorite workout or machine so far? I'm getting more familiar with the fitness machines in the club so lifting is very quickly becoming one of my favorites (when compared to cardio equipment that is).
Biggest realization for me this week was my diet. As you may remember I am a vegetarian, while the dietary restrictions may suggest that I eat healthy, that is not the case. Unfortunately, fast foods and fried foods are getting the best of me. I'm the type to reward myself with a trip to Steak n' Shake, or Taco Bell, or Bibibop, or Chipotle (as you can tell I don't cook…ever) after a workout for dinner. In my mind this just means that my workout cancels out my poor food choice, and I'll be good to go! False. My workouts are great, but my poor eating is keeping me from reaching my goals. Think about it, if I am making the conscious decision to walk to the Arena District Athletic Club in the freezing cold instead of rushing home, why throw it all away? This whole lifestyle change thing is harder than I thought. Eventually I hope to get active more regularly and eat better but right now it's a challenge. But hey, the only way through it is to get through it right?
Bottom line is this: I am not as fit as I should be but I recognize that I need to change other habits to make my workouts really count. Luckily, ADAC continues to provide resources that I can sign up for to help me with my transition. I downloaded the ADAC Mobile App in the Apple Store and surprisingly I can link not only my fitbit to it but my food diary as well! There are tons of crazy cool features on the app that you probably couldn't get anywhere else. The club just continues to confirm my choice to join because they really want to see all of their members succeed and they are constantly growing and improving, BRAVO! At that point you have a decision to make, do you want to get healthy AND STAY healthy or not? Choice is yours. Try the app out yourself and see how it works for you and your workouts, I know I will. Until next time everyone, be stubborn about your goals but flexible about your methods.
Signed,
Hey yo Cardio!? You're killing me smalls!