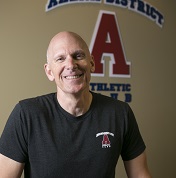 Oct 30, 2019
Take The Stairs
Health Fitness Revolution advocates being healthy and balanced. We realize that getting a full workout in every day is not realistic, but there are easy ways to incorporate being active in your day-to-day routine! It's important to stay active during the day- by becoming more active during the day, you are supplementing your workouts and keeping your metabolism at its most efficient.
It doesn't take a lot to stay active, just a few changes that make a big difference!
Be more active in the workplace – walk to the printer, stand up rather than sit when answering the phone, and aim for one 'walking' meeting a week, e.g. a meeting with a staff member and walking around the office
Choose to take the stairs instead of the elevator or escalator
Take the furthest parking spot available and walk.
Vow to walk around your local mall for 3 loops before going home.
Committing to walking more is a great way to stay active on a daily basis and can really add up in your health and fitness goals. By choosing to take the stairs, you are giving yourself the gift of walking, which is great for your circulation, your all around well-being, and your mobility!
So we challenge you to take a vow, today, to be more active in your day-to-day life, so that you can enjoy the full benefits of your lifestyle change!
The Arena District Athletic Club is more than just a gym, it's a premier fitness facility located in the heart of the Arena District in downtown Columbus. We provide convenience and quality, featuring top-of-the-line equipment, top-notch personal trainers, spa-like locker rooms and a wide variety of free group fitness classes daily including Cardio, Spinning, Barre Fusion, Yoga, Boot Camp and more. We offer free 2-hour parking and convenient contract-free memberships, to fit your healthy lifestyle needs. Don't just join, belong.