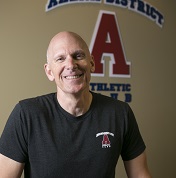 Feb 05, 2016
What to do when you don't feel like working out?
Hey everyone! It's me again. This was a tough week for me, workout wise. I just did not have as much motivation as I usually do. I did manage to make it to the Arena District Athletic Club about 3 times this week, just to get active. I find that proper rest and hydration really play a part in your energy level and your drive in the gym. But, I have to say, as reluctant as I was, I still went. I was glad that I could say that I went and did SOMETHING. Which got me to thinking…
What would benefit me the most on the days where I just want to get in and get out? I am not very workout savvy so I spoke with one of the trainers, Brittney, and she gave me some tips. It really comes down to getting your heart rate up and down quickly in order to get the most out of a thirty minute workout. One of the things that she suggested was the "Tabata" app that provides a short workout that you can do at home or in the gym. I will be giving this a try this weekend and let you all know how it worked for me.
In other news, my six week challenge is still going strong. The weight is getting easier to handle and my form is improving so that's exciting! Beginning to get accustomed to being sore in some areas after a good lift and that is a great feeling! I can feel my body slowly changing and that is really rewarding to see my (some times not so hard) work paying off. I will also consult a personal trainer for awhile to help me get started and stay committed. So far so good! I have been working with Brittney and let me tell you, it's like working out with a doctor (not really, but kind of). She was able to explain the reason for the exercise she made me do and exactly what part of my body we were working on. I am excited to see where this goes.
I have never worked with a personal trainer before, but I think this is a start to a good relationship. I am finding that it is important to be honest with your trainer about what your goals are and where you are in terms of fitness/weight level. That way you don't over do it and put yourself at risk for injury. Although this was a tough week I realized something –  I might not have been as motivated as usual, but I am still starting to see results. However slight, they are results just the same. For example, I am not as winded when I take the stairs at work! I encourage everyone to set up some time with one of the highly certified personal trainers at the Arena District Athletic Club. They will help you really challenge yourself, and help you set or meet your short or long term goals. Even if you've been working out for awhile I challenge you to take it to the next level with a personal trainer. Until next time everyone, even a small workout is better than no workout.
Signed,
I missed Taco Tuesday to workout instead (and I never miss Taco Tuesday)
The Arena District Athletic Club is more than just a gym, it's a premier fitness facility located in the heart of the Arena District in downtown Columbus. We provide convenience and quality, featuring top-of-the-line equipment, top-notch personal trainers, spa-like locker rooms and a wide variety of free group fitness classes daily including Cardio, Spinning, Barre Fusion, Yoga, Boot Camp and more. We offer free 2-hour parking and convenient contract-free memberships, to fit your healthy lifestyle needs. Don't just join, belong