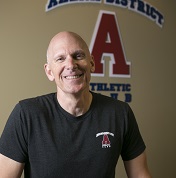 May 31, 2019
Women's Fitness Training Program

The Women's Fitness program at Arena District Athletic Club is a 4 – Week, 12 session small (4-6) group training program focused on results and lasting benefits.
Training Days & Times: 
Monday, Tuesday & Thursday: 5:45 pm – 6:30 pm
Cost: Members $289 | Non-Members $359
Need help eating better, improving your health, and getting the body you want? If so, you're in the right place.  Women's Fitness Training Program includes Precision Nutrition, for women who want to look and feel their best. We help you to get into the best shape of your life… and stay that way for good.
What you can expect from Women's Fitness Training Program:
•  Private women's only training studio
•  Pre & Post Body Age Assessment (optional)
•  Four week, with three 45-minute group training sessions per week.
•  Precision Nutrition with ProCoach Support
•  Logo T-Shirt
We'll help you get into the best shape of your life — and stay that way for good.
Lose weight, build strength, have more energy. Whatever your goals, we'll help you get there so you'll be in better shape than you thought possible.
Instead of another complex diet program to follow, get ready to have one less thing to worry about. We'll sweat the details so you can breathe easily and focus only on the next step in front of you.
We'll break your complex nutritional goals into small, strategic daily practices that add up to massive body transformation.
We'll start with you — your life, needs, and goals. Then we'll develop a personalized plan to help you eat, move, and live better — in a way that fits into your real, everyday life.
Your coach will give you accountability, direction, and support every step of the way. She'll help you stay consistent, no matter what life throws at you.
Trainer: Brittany Lewis
I attended CSCC where I received an associate's degree in Sports and Exercise Science. I began working at the club in 2013 as a part time employee. I became certified as a trainer through the American College of Sports Medicine. I recently became certified in FMS (functional movement screenings) as well. I get to help people and be a part of positive change in their lives
Questions? email Brittany: blewis@arenaathletic.com
Click here to join now: Womens Fitness
The Arena District Athletic Club is more than just a gym, it's a premier fitness facility located in the heart of the Arena District in downtown Columbus. We provide convenience and quality, featuring top-of-the-line equipment, top-notch personal trainers, spa-like locker rooms and a wide variety of free group fitness classes daily including Cardio, Spinning, Barre Fusion, Yoga, Boot Camp and more. We offer free 2-hour parking and convenient contract-free memberships, to fit your healthy lifestyle needs. Don't just join, belong