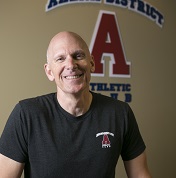 Feb 29, 2016
You're Kidding me – Tabata
You're Kidding me – Tabata
Hey everyone! Happy one month membership anniversary (for my fellow January newbies)! Hope you all had a great week! My week was pretty productive, no complaints there. Finally tried "Tabata" this week with Brittany and I have one thing to report back to you: OUCH! We tried the "Tabata Timer" which is a free app that you can download on your smart phone.
I did eight rounds of three exercises for thirty seconds with a ten second rest in between. I did this with no equipment and boy oh boy was it effective. I didn't realize how much impact gravity and body weight had on your movement. I did this in the hallway and was actually sweating. No, like seriously, sweating. I was so shocked! I was so sore afterwards, but it was a great feeling.
I will say though, that throughout the workout I did need to modify a few of the exercises because I was just not there yet (She said do sit ups … I was like …. Huh?). Definitely need to do some more core work that's for sure, but Brittany was wonderful and showed me a modified move to help me work up to it!
How's the mobile app going for you guys? I sometimes forget the functionality and only remember to use it to check in and don't add my workouts. So I decided to play around with it a bit more and found that I can set goals for myself in the "Goal Center". The goal I set for myself was four workouts a week for a month… let's get ready to RUMBLE! Oh, and I found my Fitbit guys! Wouldn't ya know it was hiding behind my bookshelf? (How'd that get there right? Not a clue.) Now I can start wearing it and get credit for all this movement! But, for me, it's not very fashionable to wear all day everyday so I've decided to just wear it when I workout. I'll pair it with my cardio day later this week and see how it goes.
Also saw that there are larger challenges that you can sign up for as well. Right now the challenge is to get burn 12,000 calories – try it out! Maybe I'll consider joining the next challenge after I complete my six week challenge for the health assessment. Hope you all are staying motivated out there! Until next time guys, push yourself push each other.
Signed,
Well hello there abdominal muscles… haven't seen you for awhile!
The Arena District Athletic Club is more than just a gym, it's a premier fitness facility located in the heart of the Arena District in downtown Columbus. We provide convenience and quality, featuring top-of-the-line equipment, top-notch personal trainers, spa-like locker rooms and a wide variety of free group fitness classes daily including Cardio, Spinning, Barre Fusion, Yoga, Boot Camp and more. We offer free 2-hour parking and convenient contract-free memberships, to fit your healthy lifestyle needs. Don't just join, belong