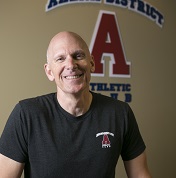 Jul 15, 2020
ADAC Health and Safety Announcement
We appreciate your patience as we've been working diligently to ensure the Arena District Athletic Club can operate in alignment with all health and governing body mandates, while continuing to assess our members' interest and availability to return.
We're excited to announce that the Club will reopen on Monday, August 17 aligned with CDC operating guidelines for fitness facilities. The hours of operation will be adjusted to enable staff to clean and sanitize equipment and high-touch surfaces between sessions:
Monday – Friday
5:30 a.m. – 9:00 a.m.
10:30 a.m. – 2:00 p.m.
4:00 p.m. – 7:30 p.m.
Saturday
8:00 a.m. – 3:00 p.m.
Sunday
Closed
As we welcome you, the health and safety of our members and staff continues to be of the utmost importance. As such, we've adjusted some services and facility offerings in order to meet social distancing and safety requirements.
Machines have been spaced appropriately, or in select cases where spacing isn't possible, a machine may be turned off. Group fitness areas will remain closed at this time, and shared amenities such as bands and exercise balls will not be in use. Enhanced cleaning procedures and additional wipe stations are in place throughout the Club, and face coverings are required to the extent mandated by local government and health officials.
Restrooms and locker room facilities will be open for your convenience, but without shared amenities such as hair dryers and toiletry items. Shower facilities will be available; however, members need to bring their own towels.
We are also limiting Club attendance to our members-only at this time. Guests will not be permitted.
Please see additional details regarding our enhanced procedures below to support your return. As we progress through these unprecedented times, we'll continue to update and adjust as needed.
What to Expect:
Face Coverings:
Members must wear a face covering in all common areas of the facility including the lobby, locker and restrooms, and when maneuvering between equipment.
Face coverings are not required during your workout.
Staff is required to wear masks at all times and must adhere to the recommended CDC guidelines with respect to daily self-checks and health related reporting requirements.
Cleaning and Common Areas:
Staff is trained on proper use of PPE while cleaning and disinfecting and are using CDC- and EPA-approved disinfecting and cleaning agents to sanitize.
High touch-point surfaces and common areas will be cleaned after each use, or every two hours by a staff member.
Additional cleaning will be performed between daily sessions and every evening after the facility closes.
Social distancing is required by staff and members during all training sessions and interactions.
Outside airflow has been increased to the building to bring additional fresh air inside, which the CDC recommends during this time.
Common area hot water temperatures are being checked and adjusted as necessary to bring them up to maximum levels allowed by code.
Drinking fountains have been temporarily disabled to reduce the spread of germs.
Vending services for both food and beverage have been temporarily discontinued.
Restrooms and Locker Rooms:
Restrooms and locker rooms are equipped with hand sanitizing stations.
Soap in the restroom dispensers is compliant with CDC hand washing best practices.
Hand washing instructions are posted in all common area bathrooms to encourage appropriate cleansing techniques to combat the spread of germs.
Showers are labeled with a sanitary notice indicating whether the stall has been sanitized and is available for use.
Shared amenities such as hair dryers, bath linens, and toiletries have been removed.
Fitness Floor:
Additional hand sanitizing stations and wipe stations are located throughout the Club, and all equipment must be wiped in between each use.
Free weights, kettle bells, weight machines, treadmills, ellipticals and stair master machines have been placed at appropriate spacing to allow for social distancing.
Group fitness classes have been temporarily suspended.
Spin bikes, resistance bands, TRX, medicine balls, exercise/stability balls, and mats are temporarily not in service for use.
Personal Training:
Personal training sessions can resume at the Club with proper social distancing.
Parking Facilities:
We have coordinated with LAZ Parking regarding enhanced cleaning procedures in all Arena District garages. For more information on LAZ Parking's enhanced cleaning procedures in our parking facilities, click here.
Membership Dues:
If you recall, the Club was forced to close due to COVID in mid-March; however, March billing for the full month had already been processed. As such, you will NOT be charged for the 2 weeks in August during which the Club will be open. Billing will instead resume on September 1.
If you have extenuating circumstances or health concerns and need to delay the re-instatement of your dues for a limited time, please contact Bill Brown directly and we will work to accommodate your needs.
While many members expressed their intent to return to the Club in the recent member survey, please note that if there is not enough member participation and payment of dues to sustain our opening, we may need to reclose the Club until member engagement reaches sustainable levels.
Ways you can help reduce the spread of COVID-19 include:
If you are experiencing symptoms including fever, cough, sneezing, or any respiratory difficulties, stay home and contact your healthcare professional.
Please wipe down all equipment you touch with the provided sanitary wipes after each use.
Use hand sanitizer between each equipment use.
Wash your hands before and after entering and exiting the Club.
If you or someone you have been in contact with has tested positive for COVID-19, please notify Bill Brown immediately; we will notify members who may have been in proximity.

Our response will be consistent with CDC guidelines for contact tracing and environmental cleaning and disinfection recommendations.

Members are encouraged to bring their own water bottles, towels and mats to enhance their comfort while using the Club.
As always, if you have any questions or concerns, please reach out to me any time at bbrown@arenaathletic.com. On behalf of the Club staff, we're all looking very forward to seeing our members again. Have a fit day!
Thank you,
Bill Brown