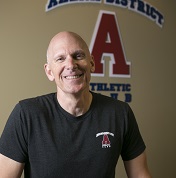 Mar 16, 2020
Update: Arena District Athletic Club Temporary Closure
ADAC Members,
The Arena District Athletic Club is temporarily closing at the close of business tonight, in alignment with the state's mandate for fitness centers and gyms. As the situation evolves, we will continue to follow recommended measures provided by our local health authorities.
In accordance with the temporary closure announcement, your membership fees will be paused; and you will not be charged until the Club reopens.
Month-to-Month Members:
Members will receive a ½ month credit applied to your account for dues paid for the month of March. In addition, your account will be placed in "PAUSE" mode so that no additional payments are collected until the Club resumes operations. The first month of renewed operations will also be prorated based on the date of reopening.
Annual Paid-In-Full Members:
Members who have pre-paid their annual membership in full will receive an extension to their membership equal to the full amount of time we are closed, once the Club reopens.
If you have further questions, please contact me at 614.332.3328 or by email at bbrown@arenaathletic.com.
Thank you,
Bill Brown