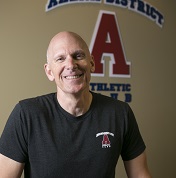 Jul 16, 2021
Exercise for long Covid: how strength training could help recovery
We don't know much about long Covid yet but new research suggests that exercise could play a beneficial role in speeding up recovery. Writer Bridie Wilkins investigates.
For every one in three people who catch Covid-19, their symptoms persist for as long as nine months. And according to a paper published by Trinity College Dublin in September 2020, two-thirds of the people coping with unrelenting fatigue – a common symptom – as a result of the disease are women.
This condition has been coined 'long Covid', and while medics have been able to draw a few parallels with similar respiratory diseases and post-viral fatigue syndromes, the reason why it hits some people harder than others remains much of a mystery. What we do know, though, is that exercise could help.
A study by the National Institute for Health Research (NIHR) in Leicester showed that a combination of graded strength training and aerobic exercise improved the recovery of people with lasting Covid symptoms.
Enya Daynes, lead author of the study and a physiotherapist in pulmonary rehabilitation, tells
Stylist
 that upon completing the six-week study, the end results showed promising progress: patients could walk further and faster, they weren't out of breath post-exercise, and they no longer felt totally exhausted. 
But there are caveats. Long Covid is a seriously debilitating disease, and while exercise could work wonders for one person, it could exacerbate symptoms for another. Here's everything you need to know about exercising to help with recovery.
HOW DOES LONG COVID AFFECT PEOPLE?
Daynes tells us the most common signs are:
Extreme fatigue or tiredness
Breathlessness
Brain fog (affecting memory and concentration)
Chest pain
Heart palpitations
Aching joints
It's key to note that, while these symptoms have been most frequently reported, research is ongoing. Such clouded knowledge only adds to the frustration and confusion in those battling the illness, but in June 2021, NHS England pledged to provide £100 million to support long Covid survivors, which will help put a finger on specific symptoms.
Nicola Geary, a participant in NIHR's exercise programme, has lived with symptoms of Covid since April 2020. For her, the overwhelming fatigue was most prominent in the long Covid stage – until she took part in the exercise scheme.
"I had no energy to move – I could barely make it to the bathroom," she tells us. "I have two flights of stairs in my house, and I stayed upstairs for the first three weeks of contracting the illness, as climbing the stairs felt like climbing a mountain. I was totally exhausted."
POSTED BY BRIDIE WILKINS FOR WELLBEING