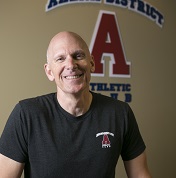 Mar 20, 2015
Trainer Spotlight – Maggie Fekete
Trainer Spotlight – Maggie Fekete:
I assist my clients in discovering their best life through Health & Nutrition Guidance, Personal Chef Service, and Private Yoga.
My interest for nutrition began with my first nutrition course at the University of Cincinnati in the winter of 2005. I began to improve my health, and the health of my friends and family, through my new found passion for nutrition.
I completed my Bachelor of Science in Dietetics at the University of Cincinnati in the spring of 2008. That summer, I returned to Columbus, Ohio—my hometown—to complete a Graduate Dietetic Internship Program in Human Nutrition at The Ohio State University. One year later, I became a Dietitian after passing my registration examination.
As a Registered & Licensed Dietitian Nutritionist I have practiced in North Carolina, Florida, South Carolina, and Ohio. I have worked with individuals of all ages, from newborns to the elderly, with a diverse spectrum of needs and conditions.
My personal desire to understand health and counseling led me to complete the Certificate of Training in Pediatric & Adolescent Weight Management and the Certified Health Coach Training Program with the State University of New York, Purchase College. I now practice as a Board Certified Holistic Health Practitioner.
Culinary preparation goes hand-in-hand with healthy eating, and holds a special place in my heart. I now offer Personal Chef services—planning, shopping, and preparing healthy, balanced meals and snacks for my very busy clients, including special events. I will be hosting monthly cooking demonstrations at your Arena District Athletic Club starting in April 2015! Please follow our monthly Online Class Schedule for dates and details.
My Yoga practice specializes in improving flexibility and balance, building strength, reducing stress, and enhancing relaxation. I currently teach a Turtle Flow Yoga class Friday mornings from 6:15-7:30am at your Arena District Athletic Club. I am also available for private, semi-private, and private group yoga sessions per request.
I am passionately dedicated to providing you with the positive support necessary to achieve optimal health.
Servicing individuals, families, and groups, including corporate wellness clients within the Columbus, Ohio metropolitan area. Online support is available per request.
Contact Information
Phone: (614) 719-9616
Email: MFekete@ArenaAthletic.com
The Arena District Athletic Club is more than just a gym, it's a premier fitness facility located in the heart of the Arena District in downtown Columbus. We provide convenience and quality, featuring top-of-the-line equipment, top-notch personal trainers, spa-like locker rooms and a wide variety of free group fitness classes daily including Cardio, Spinning, Barre Fusion, Yoga, Boot Camp and more. We offer free 2-hour parking and convenient contract-free memberships, to fit your healthy lifestyle needs. Don't just join, belong