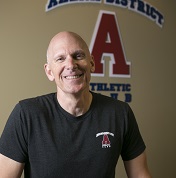 Dec 31, 2019
Welcome to Wellness – Member Success Program
Let us help you start reaching your goals!
This complementary 3 week program  is  designed to help get you started and keep you successful! You will receive three-30 minute complimentary appointments with a Wellness staff member. 
First Session
Goal Setting * Program design and introduction to your personalized 3 week program  * Education on proper form and lifting techniques
Second Session
Personal training session to review and practice of personalized program
Third Session
Personal Training session and planning for the next step
---
Enhance your success with our FITSTART Training Package!
Four, Thirty-Minute Personal Training Sessions for just $99
---
Schedule your Welcome to Wellness, FITSTART or personal training sessions.
Select appointments under Welcome to Wellness, or complete the "Trainer Request" form and turn it in at the front desk.
*Welcome to Wellness is available to first time users only.   Programs are subject to wellness staff's availability.  All appointments require a 24 hour cancellation notice otherwise you  may forfeit your appointment  Programs are subject to  change without notice.